Lauren and Jon grew up in Vermilion as natives to Ohio and transplants to Florida. When they asked me to do their Vermilion wedding, I was immediately down. Why? Because these two are awesome!
They wanted to hit up some of their favorite spots in Vermilion, including their highschool football field so they could pull out their instruments once again for some hilarious photos. They also wanted to hit up the Vermilion lighthouse to snag a couple of cuddly photos and the nearby rocks on the beach to snag some shots overlooking the water. One of the best parts about Vermilion is the people. When we were snapping photos, a family who was out on their boat made sure to give Lauren & Jon a healthy cheer of congratulations to the new couple. How cool is that?!
Lauren & Jon are big fans of Disney (remember the move to Florida I mentioned earlier?) And so Disney carried a strong theme throughout their wedding. From the Star Wars themed cake to the lightsaber entrance, and even smaller details, such as the figurines on their wine glasses. One particular detail is a small bottlecap that was on both Jon's boutonniere and Lauren's bouquet. Recognize it? When Jon went on his first date with Lauren, he gave her this grape soda bottlecap that matched the one that Ellie gave Carl in the movie Up. Later, when they got engaged, Lauren gave a matching one back to Jon. These bottlecaps became a huge part of their wedding day accessories as it represents such an important symbol of love to them, and I just love it!
Lauren & Jon got married at their church in Vermilion and had their reception at German's Villa. German's Villa is an awesome little building to have a wedding. They have some really good food, a great sized dance floor and enough space to host plenty of guests. It ended up being such a gorgeous day and I'm so glad they asked us to be a part of it.
When Alex & Andrew asked us to help them capture their day, we were elated. Despite COVID having massive implications on the size and complexity of their wedding day, they decided that they would get married no matter what. For them, this was so much more about sharing in the love of each other than it was about having a big wedding. So, they narrowed down the guest list to about 16 of their closest friends and family and moved their venue from their church building to the office of the church in Downtown Cleveland. And in order to make sure the rest of their loved ones could still enjoy their wedding day, they asked us to live-stream the wedding to a Youtube video for them. That way, their entire group of loved ones could still attend, even if not in person.
This venue was gorgeous! Located in downtown Cleveland, right on Superior Ave., the leaders of the church cleared off their office floor to open up the entire room of this rustic, industrial era building to the couple. With tall windows giving incredible natural light and beautiful hardwood, it was the perfect backdrop for a personal, intimate wedding.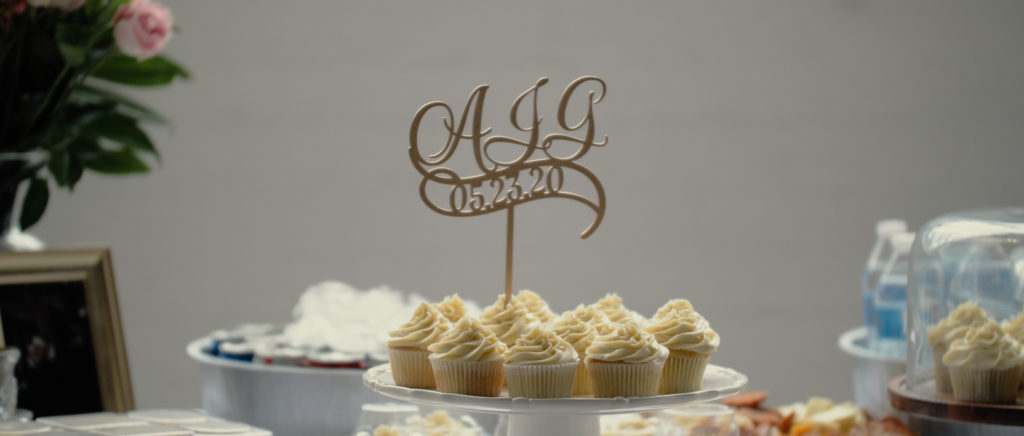 They specifically had one goal in mind with their ceremony – to make the love of God know and exalted through their love. They wanted their guests to know who they are centering their relationship on, and how He has so radically affected their lives.
In addition to the live stream, they also had a drive-by meet and greet, where guests were able to drop by their venue to congratulate them on the big achievement. It was incredible to see the amount of people that rallied to support this young couple.
We're so lucky to have had the opportunity to spend our day with this lovely couple. They were two of the kindest, most loving people I've ever met. And it was evident that their families were all equally as kind and incredible. Alex & Andrew, thanks for choosing us!